There are two main ways to begin blogging:
If you are 100% committed to blogging and know you are going to work diligently to make money than you can get a wordpress.org website, web hosting, buy a domain and begin.
However if you are a little more hesitant - maybe its more of a hobby than an income your dependent on, maybe your blogging around a full time job and 8 children to make some disposable income - you can begin a blog absolutely free and begin making money. It's not going to be an overnight affair and I'm not going to sugar coat it but it is definitely possible; I have created two successful blogs with a $0 investment.
Creating a Blog:
First you will want to start by signing up for a Google account and begin a blog on Blogger (the free version of Wordpress doesn't support advertisements) Then you just click on New Blog and choose a name and url.
After you have chosen a name and url you can choose a template and begin! Make sure you put thought into the blog name you choose and search it on Google because you don't want someone else with the same name - makes it a lot harder to distinguish yourself. The template however can be customized at any time.
Now you got your blog set up you are going to start writing some content. It's fairly easy to navigate just click on 'New Post' and start writing:
Your blog post is going to want to contain a few things (besides great content!):
- a pinnable title image (as over half my traffic is derived from Pinterest)
- gorgeous images, that are your own or you have permission to use
You can use almost any editing software to create a pinnable image, personally I use PicMonkey. Originally when I started with PicMonkey basic editing was free and if you wanted the premium features you needed to upgrade.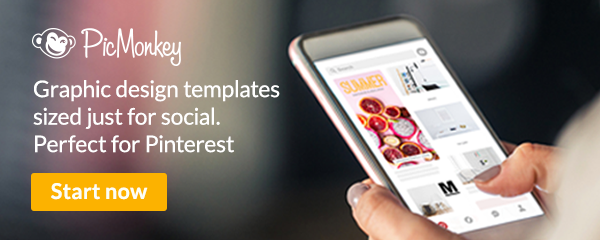 Now they are selling two tiers, I personally purchased the basic the only difference really is you have to save the images to your computer and if you import it back to picmonkey the elements are compressed into one layer.
I use picmonkey to create all my title images for my blog posts the ones that I will save to my Pinterest boards, the program is simple to use, they have tons of free templates you can edit and I also like the collage option which you can just import images in and arrange them.
As Pinterest accounts for over 50% of my traffic I thought the investment was worth it. I also make all the free printables and birthday party printables I offer on my blog in PicMonkey
Getting Traffic
In order for your blog to make any money your going to need traffic. There are two main ways to do this (in my opinion) SEO (Search Engine optimization) so Google and other search engines will find your post and social media.
A lot of people now search Google by images so it is important to label your images with searchable text, to label your images simply right click your image, click on properties and enter your alt text. If you are having difficulty trying to decide what people search you can begin typing something into Google and see what it suggests or you can use
Google Trends
. Enter a search term and it will show you the interest and related queries.
You also need to create social media accounts: Pinterest is my biggest source of traffic and so where I concentrate most of my time. I recommend having your first board be all the articles from your blog, I often check out my favourite bloggers accounts to try to see all their articles in one place and give up when they are strewed among 50 different boards.
Your not going to have 5000 followers to start so one great method to get your pins viewed more is to join related group Pinterest boards; I have several if you want to request an invite And also you can go to Pinterest link parties.
After a year I decided to join
Tailwind
, I am always hesitant to spend money on my blog because there are so many options and not all of them are a great return on your investment. So I was glad they had a 30 day trial membership which didn't automatically charge you at the end of it!
So I tried it and what's great is that you can create groups and schedule a pin to 14 different boards with one click, have them scheduled at prime times during the day and shuffle your ques so that 20 of the same pins are not posted at once. This is great to optimize your pinning without trying to manually track which boards you have pinned which pin to.
Making Money
Throughout my 10 year blogging history I have tried tons of affiliates and several of them were a complete waste of time, and the one I would recommend the most for a starting blogger would be InfoLinks.

I have been with them for several years, and continue to recommend them. They have very low requirements for joining and pay you for every $50 you earn via paypal. I received my first blogging cheque from Infolinks and it feels great when you finally get something back for your hard work. Here are my current week's earning:
Not super amazing but it's a great place to start and it still a portion of my blogging revenue.
The first investment I made on my blog was purchasing a domain name, some larger affiliates require it and also I didn't want someone else to purchase it and take away traffic which were searching for my content. As soon as you make your first $20 I suggest investing it in a domain (or even before) as y
ou will have to switch over all your links once you do purchase one. And my website was down for a 48 hour period, not to mention I had a super difficult time redirecting my google adsense ads. Have you ever tried to directly contact Google? It's damn near impossible!
I purchased my domain name: musingofanaveragemom.com from Namecheap you may want to purchase all the options .ca and .net and redirect them back to your .com website as other people would be able to purchase them otherwise.
I also joined Share a Sale and Amazon and incorporated their links and banners into relevant content within my blog posts and also as advertisements within my blog side bar.
Share a Sale is now one of my favourite companies, I haven't been using them very long but they have a lot of companies they work with, their ads are really attractive looking, and their commissions are quite reasonable. I am still hovering under the minimum payout but have seen a spike around holidays and incorporating products into blog posts.
Share A Sale
also has a referral program in which you get $1 for referring new affiliate referrals, and I believe it's $150 for referring a new merchant
(so I would really appreciate if you used my link =) )
The only complaint I have with Share A Sale is that when I am searching for a specific product I cannot always seem to
find
a merchant who is selling it.
You can find absolutely everything on Amazon! So it's not difficult to link to products that relate to your blog content; for instance you're offering free printables? Then you can link to the card stock you like to use best. I get paid by cheque by Amazon and love December as I make gift guides and link to relatable product. Also when I first joined I could only offer Amazon.ca as I'm Canadian but now you can link to all countries so you don't miss out on your blogs main traffic.
After I had an established blog I joined Google Adsense. Google Adsense is one of my best and most consistent revenue streams and see an average of $10 a day profit from it (not bad for a side job) Just don't be too eager to join Google adsense as you will not be accepted if you don't meet their requirements of having a blog that is at least 90 days old and it's nearly impossible to re-apply.




Sponsored Posts
There are several different options for writing sponsored posts, I can't say I have completely taken advantage of this revenue stream as they take a little effort to find relevant posts for your audience and apply.
One of the sites I use is
Valued Voice
. They email you when ever they have a sponsored post and they write the content so you simply have to copy and paste the text and submit the url.
Originally they paid you out for every post, now they have a minimum payout of $100 (unless you upgrade - which I haven't) which sucks but it takes me 5 minutes and I get credited $12 for every post and have been paid by them in the past so I would still recommend them.
I have also joined Socialix.com you usually have to have an established blog as the post have minimum social media requirements and some post offer free products only which is good if you wanted to try out the product anyways. I have received a free teeth whitening product from them as well as paid collab as well so they are worth looking at.