I wanted to try to be a little more organized lately, as I am a little anxious and somewhat frazzled at times with my disorgination and then add to that the chaos of toddlers.
And I fell in love with the Filofax's I seen on Pinterest but was a little frightened by the $50 starting price tag for them so I decided to create my own planner
(all for under $10)
and spent so much time finding and organizing the free printables I wanted, so I decided to share them with all of you.
First - start with the binder (or Filofax) you want to use. I picked up a mini binder from the Martha Stewart line on clearance at staples for under $4. I was going to share the link with you but it is no longer available.
Second you will need, a whole punch of some kind. You can either purchase a co-ordinating one, or use a single hole punch and template. I already had a two hole punch from my husband's business so I just used this one.
Then you need to decide which sections you want/need in your planner. Everyone's different so you can choose which ones you wanted.
The
Handmade Home
has a fantastic free printable A5 planner which includes
- a cover (in three different options)
- monthly views for 2016
- weekly page view (on two pages)
- birthday and anniversary pages
- a menu planner
- a weekly cleaning schedule
- goal pages, divider pagers, to do lists and more!
So pretty much everything you need.
I liked the week view on one page instead - so I didn't have to try double side printing or have a blank front side. I personally liked the one from
One Good Thing by Jillee
and just used the back side for jotting down notes.
This isn't actually A5 size but if you just follow the simple tutorial by
CleanMama
you can resize any adobe file into A5 size which will give you a lot more options for your planner printables.
I liked the notes page, and password page by
MissTina
who also offers a few more printable including the cute month tabs (shown below), a project planner, and date night planner.
Thirty Handmade Days
has all your budget printables including a meal planning printable (which I prefer) as it's all on one page and a grocery list. I found the mini binder printables were a little smaller than my other sizes so I just used her
Ultimate Budget Binder
Printables and resized them.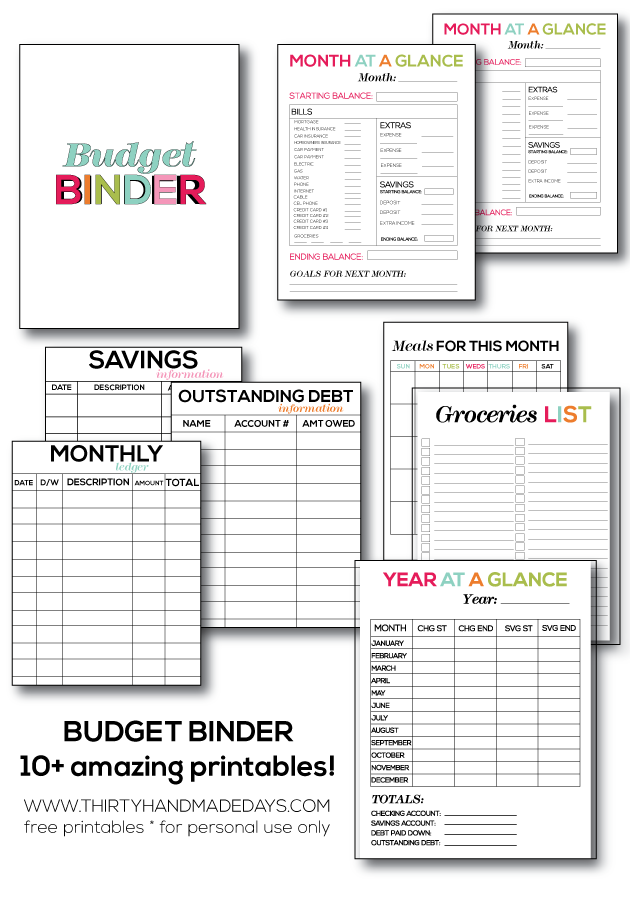 You might also like My
2016 Free Printable Calendar Round-Up.
So these are what I included in my planner. Please leave a comment if you have made or found some planner pages you love.